Dell Technologies subsidiary VMware Inc. is expanding its VMware Partner Network program to include its partnership to run on Amazon Web Services' (AWS) public cloud, the firm announced on Wednesday.
Since launching Aug. 28, 2017, a partnership between VMware and AWS has allowed customers to run VMware's SDDC (software-defined data centre) stack on the public cloud. These instances are hosted on AWS U.S.-based regions, one in the east (North Virginia) and one in the west (Oregon). VMware also announced a new London-based region shared plans to soon expand to Frankfurt, Germany. In the second half of the year it will open in the APAC region.
No plans were announced for hosting in the Canadian region.
VMWare executives discussed the new partner program addition, among other product announcements, in a webcast.
"In my 14 years at VMware, I've never seen such interest from the clients and partners for a solution," said Brandon Sweeney, senior vice president, worldwide commercial and partner sales of VMware. "I think partners are interested in how this solution can help them be hyper-relevant to their customers."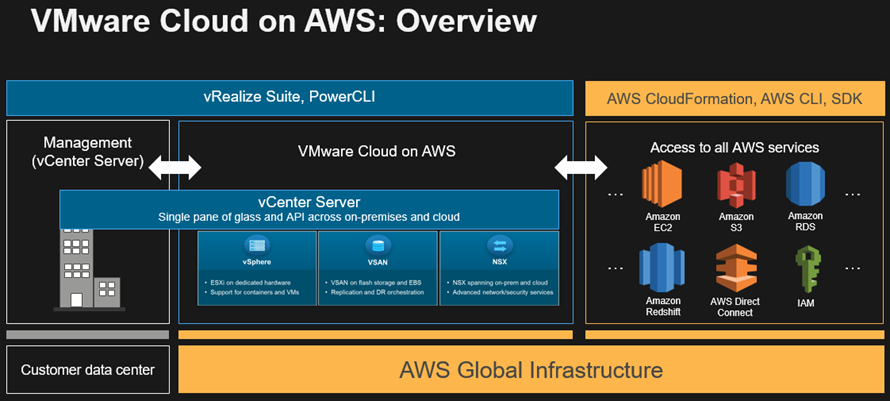 Recognizing that more of its clients wanted to operate some portions of their business using the public cloud, VMware struck up the partnership as a way to ship workloads from their on-premises servers to the cloud and back again. The clients also get the benefit of accessing native AWS services.
One media company client is in the process of moving 1,800 applications to AWS by using VMware's vMotion, says Matt Garman, vice-president of AWS Compute services. It's just one example of many moving to the cloud so they can natively access all the services offered by AWS.
"We have many customers migrating from their commercial database engines over to Aurora," he says, referencing Amazon's relational database. Before VMware on AWS Cloud was available "customers were really struggling with how to keep VMware environments close to the AWS services they want to use."
As of today, VMware partners can access the new VMware on AWS Cloud competency from the partner portal. Those that complete the competency will unlock benefits including front-end discounts on the solution, and rebates on sales as well.
"We want to make sure all of our partners can take advantage of the solution," Sweeney says."Here's an opportunity to extend your portfolio… you can each a bunch of dollars both in front-end discounts and in rebates."
Prime candidates for the new solution are companies that are already clients of both AWS and VMware. But its possible that businesses looking for a way to migrate to the cloud while avoiding downtime will also sign up for the solution.